What's New in Version 2.6.0
We are pleased to announce the release of version 2.6.0 of Pro Delivery Manager. The mobile app for Android and iOS has also been updated to version 2.3.1.
This new version features an improvement to courier tracking.
Background tracking has been introduced to the mobile app so that your courier continues to be tracked reliably when the mobile device has gone to sleep or if the user switches to a different app.
In addition we have introduced an event logging system which records log in and log out events in the app. For the Android app, changes to status of Location Services on the mobile device are also logged enabling you to see when your courier disables GPS tracking.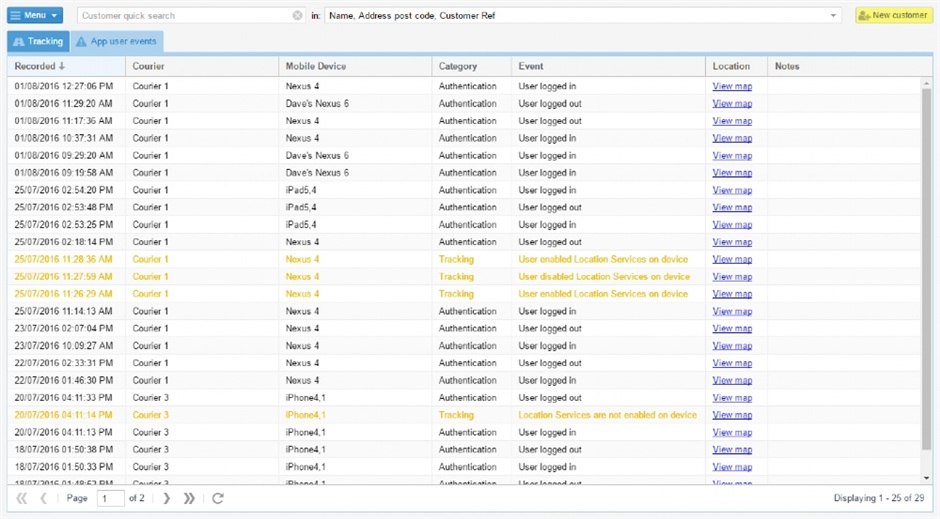 App user events are shown in a new tab via the "Tracking" module in the admin system. In addition, these events are shown in location on the tracking map when tracking of the app user is enabled.
Log in and log out events are used to provide additional statistics for app usage in Pro Delivery Manger reports. This enables full reporting on the time each app users spends logged into the PDM app. This can be useful for calculating courier time sheets and wages.
For more information on how to ensure reliable tracking of your couriers, please see our new "how-to" guide.
Bug fix for SMS notifications
Some users have experienced intermittent issues with the mobile app not always sending SMS notifications to the customer. We are pleased to announce that the cause of these issues have been identified and fixed in version 2.3.1 of the mobile app.