Web Application Features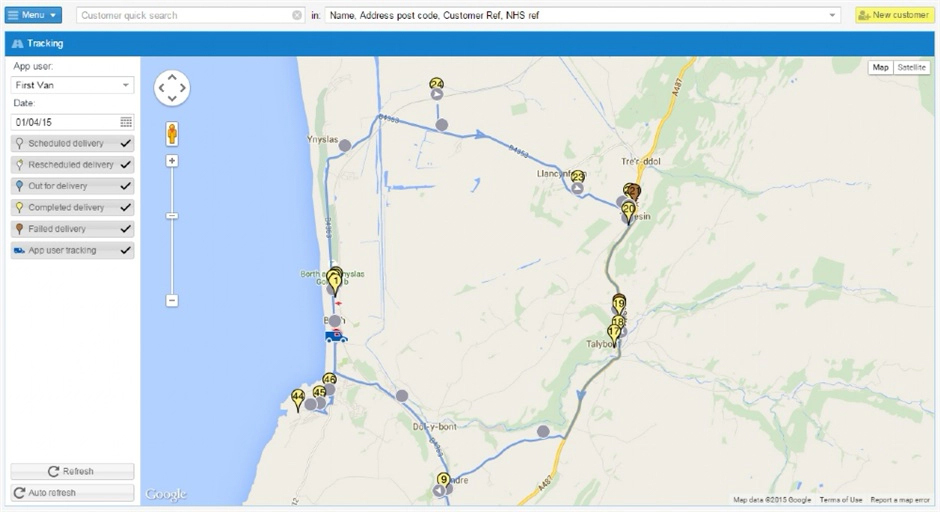 Live tracking of deliveries and your couriers / delivery vans
Interactive maps shows:
- Last known location of any delivery van
- Each scheduled delivery is represented by a colour-coded pin - blue = scheduled, yellow = delivered, brown = incomplete. Pins can be clicked on to view full delivery information.
- Starting point of courier (green dot)
- Points where courier position was recorded (grey dots)
- Points where courier stopped for more than 5 minutes (red dots)
- Each point can be clicked on to view further information
The map can be set to automatically refresh and follow the location of the delivery van throughout the day.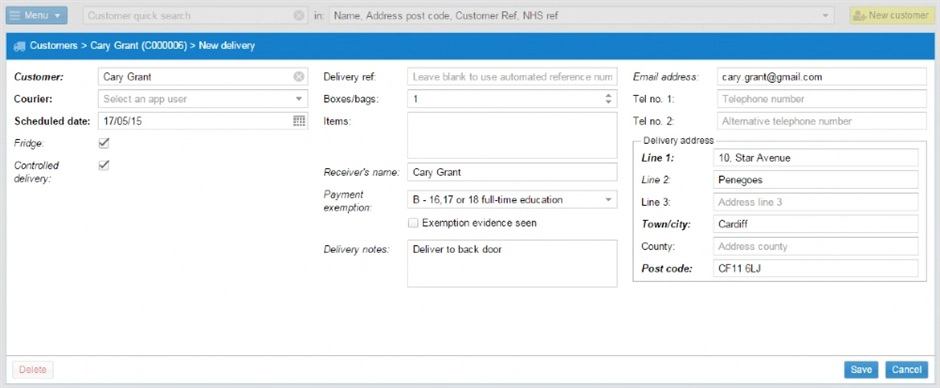 Schedule deliveries in advance
Deliveries can be scheduled for any customer, courier or date. Optional information about the delivery such as the items and any delivery instructions can be added.
For deliveries occurring within the next 7 days, the customer will be sent an email and/or text message to let them know when to expect their delivery (if you have configured this option for the customer).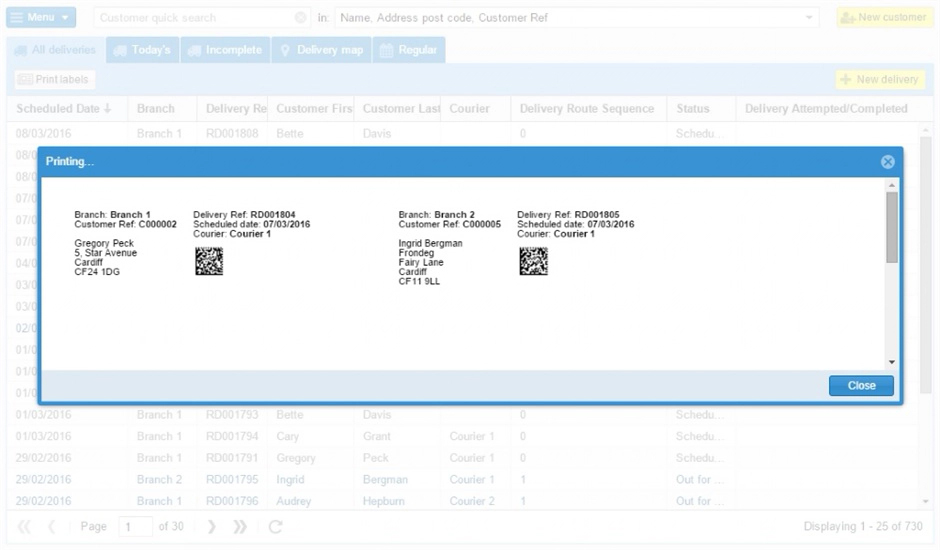 Print out address labels including barcodes
Address labels can be printed out right within the web application.
Flexible configuration options allow you to print labels to many different types of printers including dedicated label printers.
Supports printing of labels for deliveries containing multiple boxes/bags and batch printing of all delivery labels by date.
Labels include a barcode so that the courier can scan the label via our mobile app and easily identify deliveries when loading items onto the delivery van.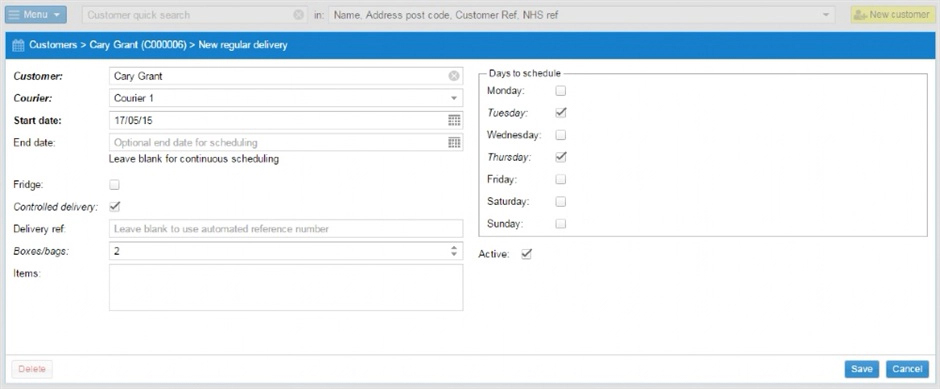 Schedule regular deliveries
If you make deliveries to a customer on a weekly basis, these can be entered so that the deliveries are automatically scheduled.
A start and end date (if required) can be set.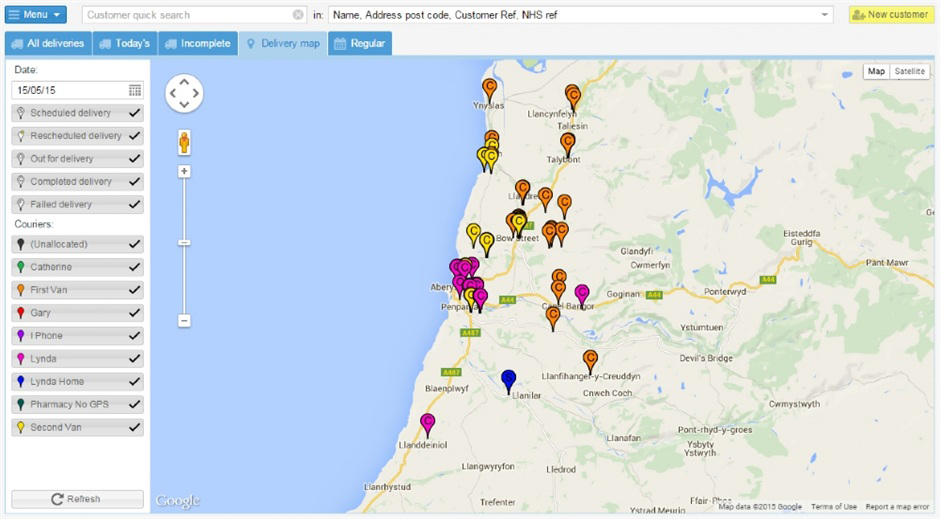 Map overview of deliveries
Deliveries for any date can be viewed on an interactive map. Deliveries are colour-coded to assigned couriers, allowing you to easily identify deliveries that should be reassigned or rescheduled.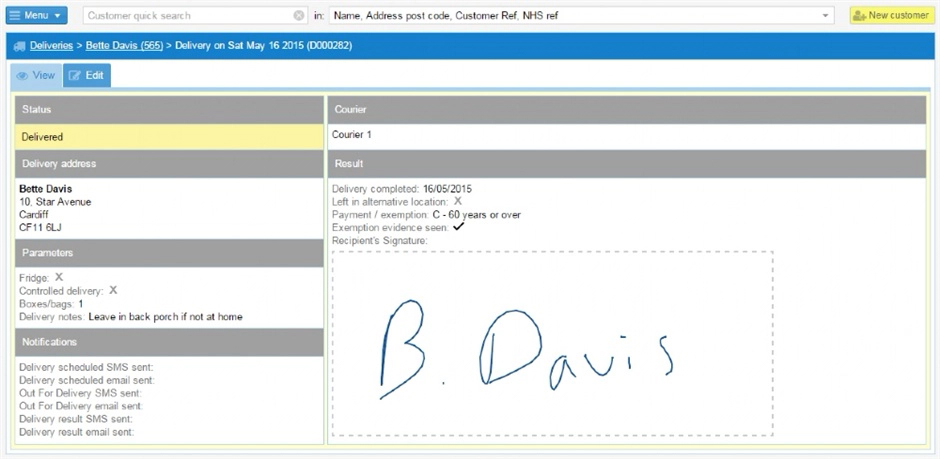 View full delivery details
The outcome of each delivery can be viewed. This includes the exact time of delivery, a record of items included, any notes added by the courier and the recipient's signature.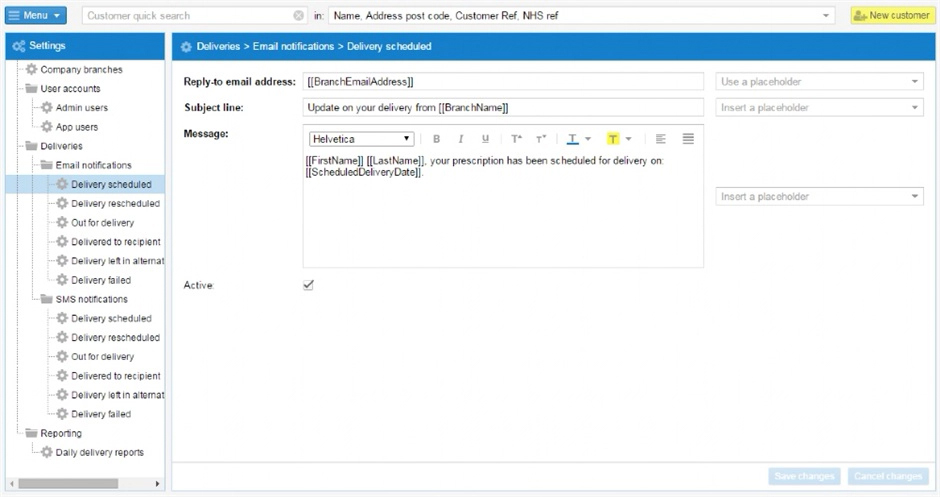 Configure SMS and email customer notifications
Customers can be kept up to date with the status of their delivery by SMS text messages or by email.
The content of all types of SMS and email notifications can be configured.
Notifications can be enabled/disabled on an individual customer basis.
SMS messages are sent via the mobile delivery app to take advantage of texting bundles available on most mobile phone contracts.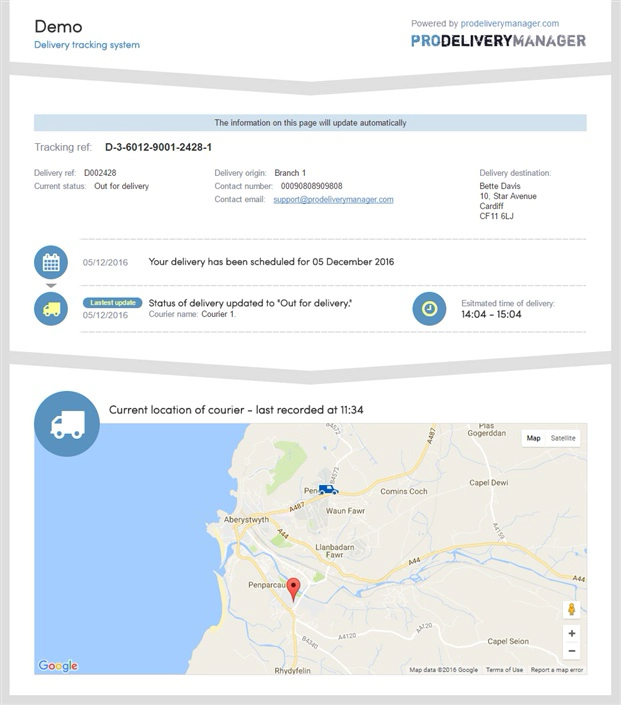 Delivery tracking links
A tracking link can be included in all notifications sent to your customers. The link allows your customers to view the history and current status of their delivery in real-time.
The following information can be included:
Branch / depot contact details
Progress of delivery (current status etc.)
Courier's name / contact details
Estimated time of delivery
Name of person who signed for delivery
Signature of recipient
Courier notes
Current location of courier (on map)

Watch the video for more information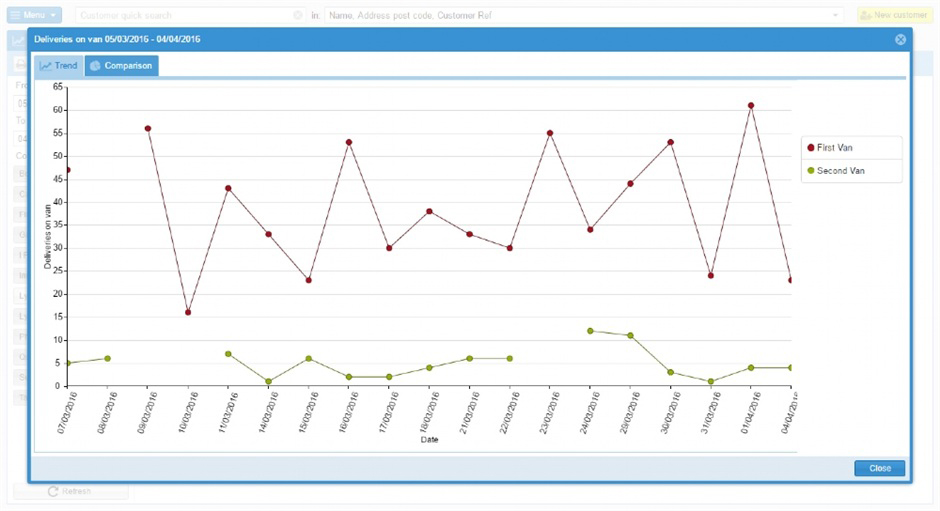 Generate detailed reports
In addition to sending daily report summaries by email, our reporting module allows branch and company managers to generate detailed and customisable reports.
Reports can be printed, sent by email or plotted as graphs in order to visualise trends and compare performance.
The reporting module also provides exporting of raw statistical data for your own analysis purposes.
Security and control
To ensure a high level of security, no customer or delivery data is stored on the device running the app. The customer and delivery database is only downloaded into memory when the courier successfully logs in.
All downloaded data is stored in an inaccessible encrypted format and is cleared when the courier logs out or closes the app.
All communication between the app and the web database is secured by a high level of encryption using industry-standard security certificates.
The user can lock the app at any time. The app will automatically lock after a set period of inactivity.
The user can choose whether to allow customer notification SMS message to be sent from their device before logging in.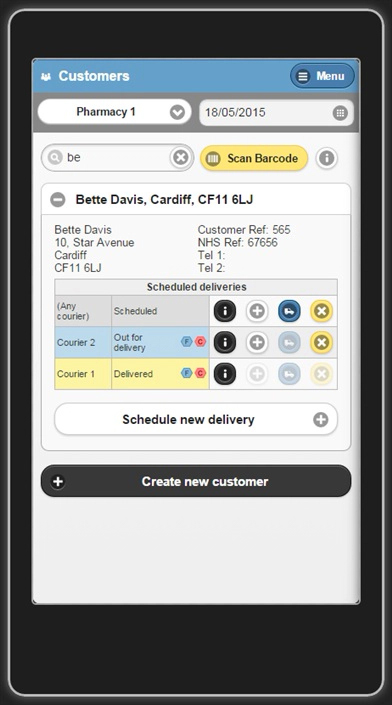 Finding customers and scheduling deliveries
Use the on-screen calendar to select the date for which you want to schedule deliveries.
A powerful search tool allows you to quickly locate a customer in the database. Click on a customer to view the current delivery status for the chosen date or to schedule a new delivery.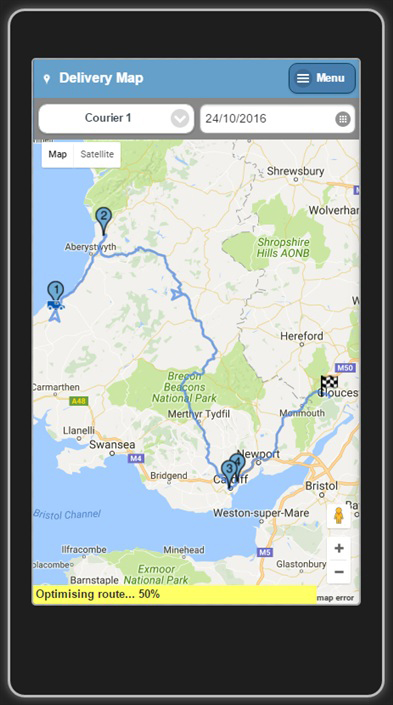 Delivery information and routing
The delivery list tab shows all deliveries scheduled for the chosen date. They are grouped into sections for scheduled deliveries, "out for delivery," delivered and incomplete deliveries.
The delivery map tab shows the location of all deliveries for the chosen date on an interactive map. Your current location is also indicated.
Deliveries marked as "out for delivery" are automatically sequenced by optimal route (accounting for live traffic conditions and mode of transport) and numbered accordingly. The suggested sequence can be ignored or re-routed at any time.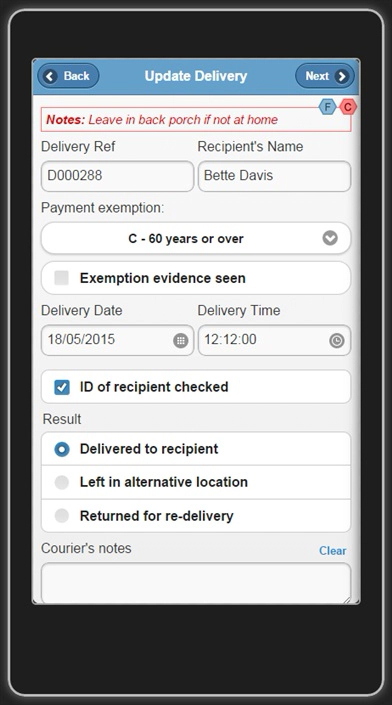 Recording delivery outcome
The outcome of each delivery can be recorded in the app including any notes added by the courier.
The receiver's signature can be captured on the touch-screen.
All updates are cached in the device's memory and synchronised with the web database as soon as an Internet data connection is available.