Proud winners of the 2017 Welsh Pharmacy Awards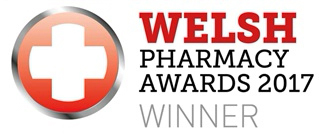 We are proud to announce that Pro Delivery Manager won a key award at the 2017 Welsh Pharmacy Awards.
This prestigious annual event is dedicated to honouring those whose exceptional expertise and contribution have transformed the provision of pharmaceutical care for the better.
The inventor of Pro Delivery Manager, Gary Jones, was nominated for the "Innovations in Quality & Efficiency through Technology in Community Pharmacy Award" and was announced as the overall winner in this category at the award ceremony.
The judges explained their choice of winner this way: "The judges were very impressed with all the applications they received. It was unanimously agreed however, that Gary has shown true innovation with his own input and development of his Pro Delivery Manager app which can be used to improve efficiencies in pharmacies throughout the world. Well done Gary!"
In addition, Borth Pharmacy, where PDM had its beginnings, was announced joint winner of the "Independent Pharmacy Practice of the Year Award." Congratulations Gary Jones!