Viewing Direct Debit Status and History
Open a customer record to view the Direct Debit status and history. Please note that this feature is only available in selected countries and the user must be granted permission to view "payment requests."
You can view the current status of Direct Debit for the customer at the bottom of the left panel.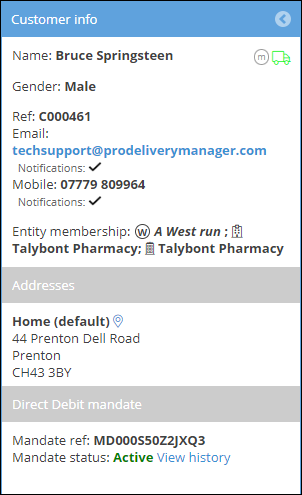 To view the history of the Direct Debit agreement, click the View history link.
A floating window will open showing information related to the status of the Direct Debit mandate.

The information shown includes:
PDM Event: A log of each time the status of a Direct Debit mandate was changed.
PDM Communication: A log of email and SMS notifications created by PDM that relate to the Direct Debit mandate.
GoCardless event (for Direct Debit collection methods only): Logs provided by our Direct Debit payment partner that relate to the mandate.